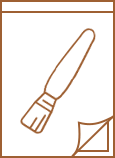 Hi, I am Karina Grift
Based in Melbourne — Australia
I paint, draw and write. I explore abstract, expressionist, textured painting and fine, detailed drawing. And, I love to write.
---
Call me: +61 (0) 419 899 311
or
Write me: karina@karinagrift.com
Journalist, artist and writer
A self-taught artist whose work has won awards and sold at art shows
Karina is a qualified journalist who has had a successful career with News Corp in Australia. Karina is also an artist and creative writer.
For the past 10 years Karina has been exploring and developing her own artistic style, with outstanding results.